---

ADULT EDUCATION

Sometimes we think of Lent as a battle between the flesh and the spirit. Can the two be reconciled? Perhaps Lent is about repentance that leads to reconciliation, as in Psalm 85:10:

"Mercy and truth have met together;
righteousness and peace have kissed each other."

This verse is important in the 1989 motion picture Babette's Feast, from a short story by Isak Dinesen. The movie shows a battle between flesh and spirit, mysteriously reconciled through a meal. Does this sound vaguely familiar? (Psst: the Eucharist!) The Adult Forum will be viewing and discussing this film through the month of February and into March, i.e., through the Lenten season. Please join us after worship and refreshments in the Pastor's Study on non-Confirmation Class Sundays.


LARC – LUTHERAN / ANGLICAN / ROMAN CATHOLIC DAY OF DIALOGUE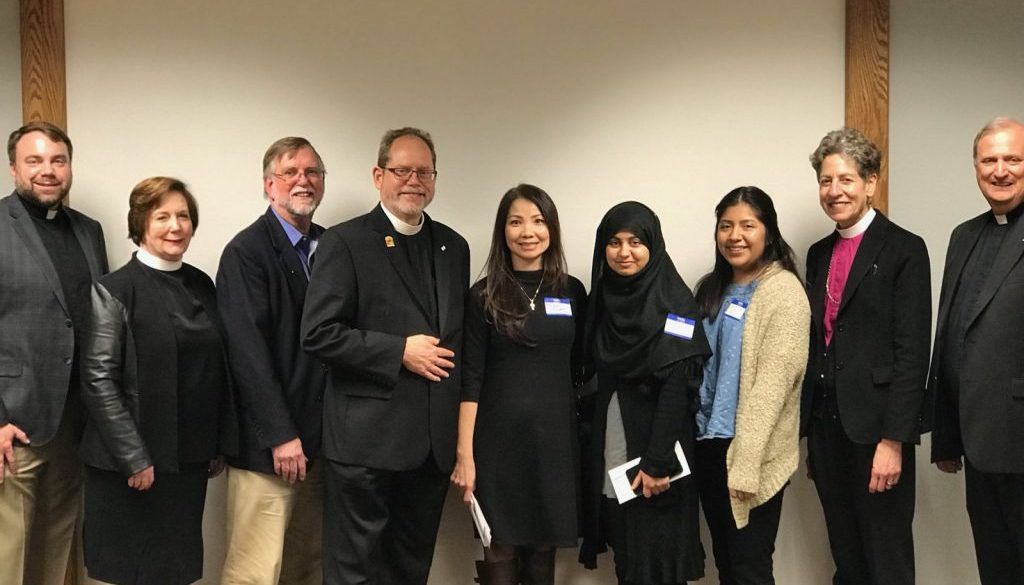 The San Diego Lutheran / Anglican / Roman Catholic Dialogue holds a Day of Dialogue every year during the Week of Prayer for Christian Unity. The theme for this year's gathering on January 20 was "God Forms a People: A New Mosaic." Pastor Bieber read a paper entitled, "Broken Shards Form a Portrait of Christ: The Unity that Only God Can Give." Here he is pictured with Episcopal Bishop Katharine Jefferts Schori, Roman Catholic Monsignor Dennis Mikulanis, Lutheran Pastor Daren Erisman, and other Day of Dialogue participants.


MIDWEEK SOUP AND PRAYER

Beginning on February 21 and continuing until Holy Week at the end of March, we will gather for Christian fellowship and common prayer on Wednesday evenings again in Lent. We will need people to bring soup(s), together with bread, rolls, and butter to round out our simple Lenten meal. We will also need help with setup at 5:30 pm each week. Soups will be served at 6 pm followed by Compline, Brief Eucharist, or Evening Prayer at 7:00 pm.

The Council designated midweek Lenten offerings to the Lutheran-Episcopal Campus Ministry at SDSU (Agapé House).



AN OPPORTUNITY TO SERVE

African Team Ministries is a Christian ministry working as an intermediary between African and American churches. With help from Episcopal, Methodist, Presbyterian, Lutheran, and Anglican denominations, they provide funding for orphan and refugee relief missions and evangelism in East Africa.

The support they receive is sent directly to their partnering Bishops to provide school fees, tuition, books, and uniforms. This support ensures that the children receive an education and a measure of stability. They currently have children registered for sponsorship in Kenya, Uganda, and Tanzania.

This ministry is supported by the purchase of hand-made items from these East African countries. The Council is seeking a volunteer to coordinate an event on Sunday morning or another day and time at which these crafts and jewelry items could be offered for sale. To find out more, go to

http://www.africanteamministries.org


A NOTE FROM THE FINANCIAL SECRETARY

When you give your Sunday offering, please use your envelopes for privacy or write your envelope number on your check.






THE BLUE PIG

Please be generous to the Blue Pig when it appears after the Liturgy on Sundays. Thanks to all our generous givers!



FAIR TRADE COFFEE

Coffee for after-church fellowship is available in the kitchen cabinet (the shelf is labeled) for the cost of $8.00. Please put the money – along with a memo noting that it's for coffee – in the collection plate, or give it to Chris Wilbur, Karen Whistler, Sandra Archer, or Karen Denneson on Sunday mornings. If you need coffee for your own use at home, you can ask the same people.



Anniversary Cookbook Update!