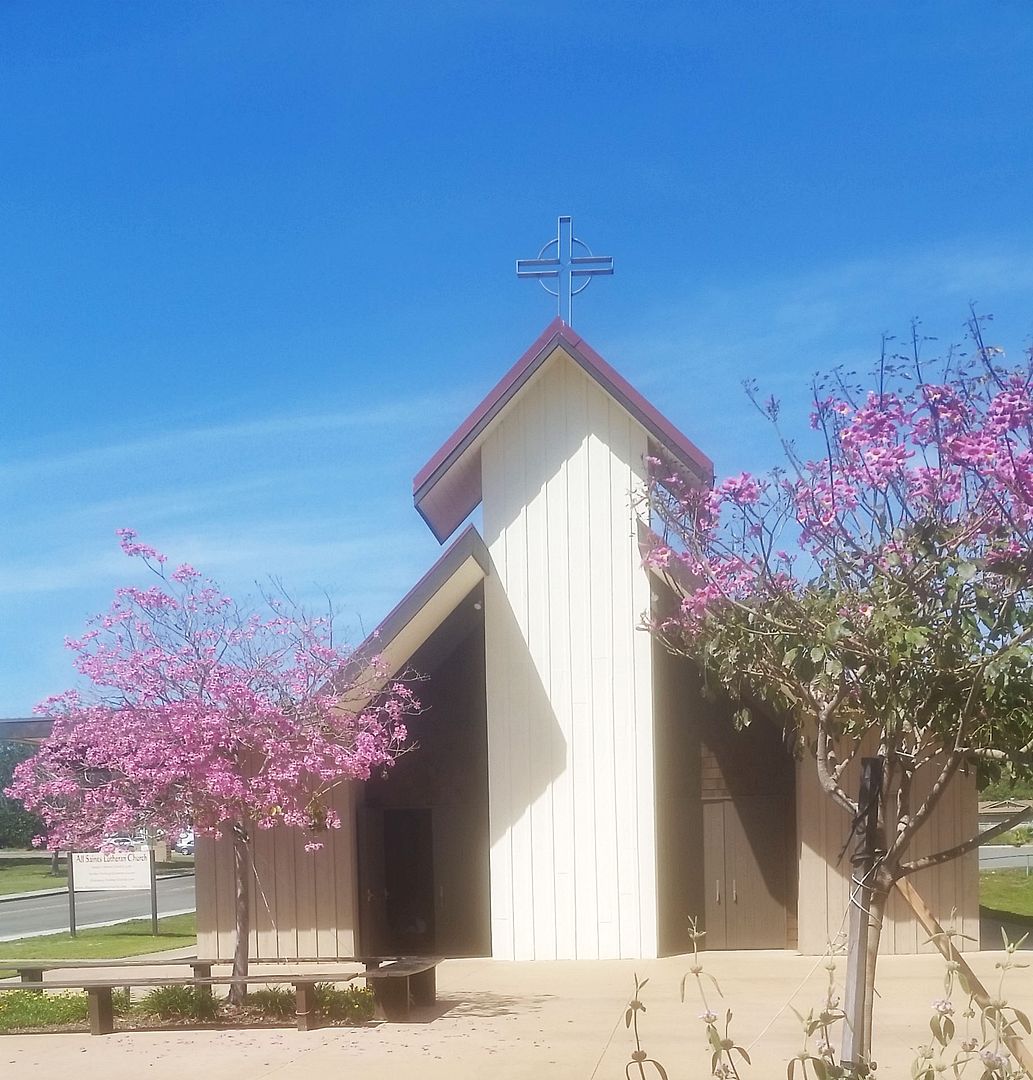 ---
All Saints Lutheran Church, San Diego

6355 Radcliffe Drive, San Diego, California 92122
Church: 858.453.3595 • allstsofc@sbcglobal.net
Preschool: 858.453.5340 • allstspre@sbcglobal.net

​The Holy Eucharist: 9 am Sundays, in person and on Zoom
The Wednesday Evening Service has been suspended
---
From the Pastor . . .

Dear Christian friends:

In Abitene, a small village in present-day Tunisia, forty-nine Christians were taken by surprise one Sunday while they were celebrating the Eucharist, gathered in the house of Octavius Felix, thereby defying the imperial prohibitions. They were arrested and taken to Carthage to be interrogated by the proconsul Anulinus. Significant is the answer a certain Emeritus gave to the proconsul who asked him why on earth they had not obeyed the emperor's severe orders. He replied: We cannot live without joining together on Sunday to celebrate the Eucharist. We would lack the strength to face our daily problems and not to succumb. . . Christ is truly present among us in the Eucharist. . . It is a dynamic presence that grasps us, to make us his own, to make us assimilate him. Christ draws us to himself, he makes us come out of ourselves to make us all one with him. . . Communion with the Lord is always also communion with our brothers and sisters. . . .

Joseph Ratzinger (later Pope Benedict XVI) related Emeritus' reply in a newspaper article over thirty years ago. Through thirty years, five hundred years, almost two millennia, the truth of the matter stands: the Eucharist, Holy Communion, the Lord's Supper, the Sacrament of the Altar is the greatest of all Christian acts of worship. It is communion with Christ, it is a sharing with others, it is an offering of ourselves to the Father, it is a remembrance of the Passion of Christ, it is the Spirit's energy and empowerment.

The deepest spiritual needs of each of us are joined with the prayers and praises not only of those who kneel beside us but of the whole Church in every time and every place, and with the ceaseless intercessions of our great High Priest, the crucified and risen Lord Jesus. He is the same Christ who makes himself our bread whenever and wherever this bread is taken, blessed, broken, and given. It becomes his body, and so too do those who receive it, also to be taken, blessed, broken, and given for the life of the world in our daily lives.

"Eucharist" means thanksgiving. The festive worship we offer on Sunday, and the humble service we offer every day, are but our response to the One who offered, and offers, himself for us, and to us. Emeritus was right: We cannot live without joining together on Sunday to celebrate the Eucharist.

Grace and peace,

Paul Bieber, STS, Pastor

​

Here is the Trinity Sunday sermon on St. John 16.12-15; Proverbs 8.1-4, 22-31; Psalm 8; and Romans 5.1-5:

https://youtu.be/OZPLKUJvPzg

To view more sermons from All Saints, visit

Unbroken Word | Broken Bread ​Invitation: In-person or by Zoom

​

You are invited to join the All Saints community in worship. California has lifted masking and social distancing requirements for vaccinated people. If you are vaccinated, you may come to church for worship without a mask and sit where you like. If you are not vaccinated or if you simply prefer it, you may wear a mask and/or mark your seating so that social distancing will be maintained.

The service continues to be available on Zoom. If you are gathering virtually for worship via Zoom, please go to

https://us02web.zoom.us/j/7904299410

at 9 am on Sunday to join us online. You can also dial in on your phone at 1 (669) 900-9128; the Meeting ID is: 790 429 9410. We open the meeting at about a quarter to nine so that we can greet one another and check in before the worship service begins. The meeting host will admit you to the meeting from the waiting room. Send an email to

allstsofc@sbcglobal.net

if you would like to be added to the list of those who receive the order of worship and the readings via email.

Regarding offerings: You may bring your offering to church. Or you can mail a check to the church or slip one through the mail slot next to the church office door. Or you can send money via www.Zellepay.com (the church's email address is allstsofc@sbcglobal.net) or www.Paypal.com. Thanks to all our generous givers!

---

---

All Saints is on Facebook!

If you're on Facebook, too, please like and participate in our

New Facebook Page

.

---
---
Please visit our
Liturgical Ministries page
for schedules of acolytes, deacons, lectors, offertory giftbearers, and coffee hour setup hosts
What's happening at All Saints? News & Notes is our online newsletter!
---
We Invite You to Join Us!

Sunday Eucharist – 9:00 am

We regard the Church's liturgy as the birthright of the baptized and invite Christians of all ages
to worship as they are able. At the end of the liturgy on the first Sunday of the month,
we encourage children to join the pastor for a children's sermon.

Sunday School follows the worship service – from Holy Cross Day (September 14) through the Day of Pentecost

Confirmation Classes – begin again in the Fall

Wednesday services have been suspended


---
All Saints is a congregation of the Evangelical Lutheran Church in America and its Pacifica Synod.

We are also a member congregation of the Community Christian Service Agency.

---
Website most recently updated on Monday of Bright Week 2021 - 5.iv.2021.