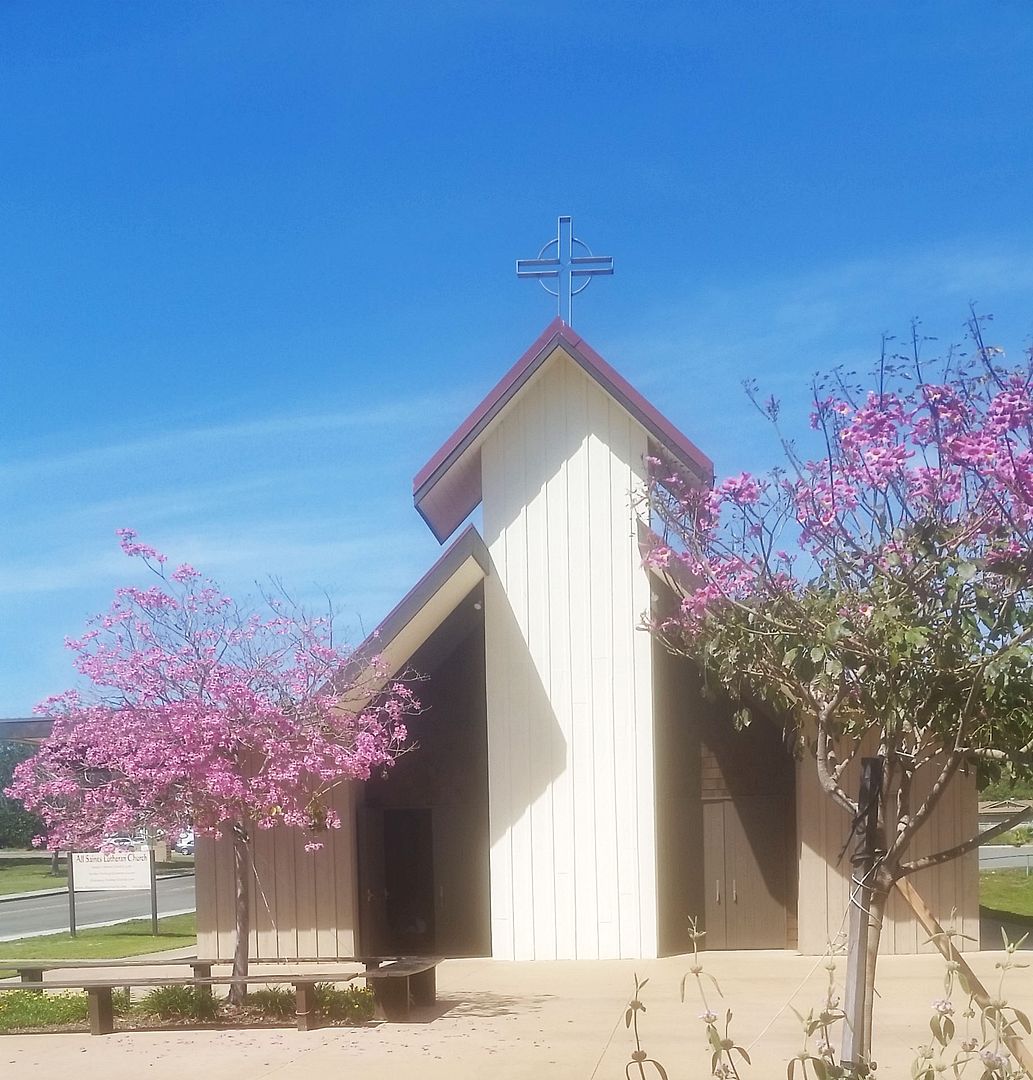 ---
All Saints Lutheran Church, San Diego

6355 Radcliffe Drive, San Diego, California 92122
Church: 858.453.3595 • allstsofc@sbcglobal.net
Preschool: 858.453.5340 • allstspre@sbcglobal.net

---
September, 2016

FROM THE PASTOR...

Dear Christian Friends,

In every Sunday's intercessory prayers, we pray for the Suffering Church. And, as you will see below, All Saints' Adult Education—moving back to Sunday mornings this Fall—will begin with six sessions about martyrdom, suffering, and confessing Christ. The Church calls "martyrs" (Greek for "witnesses") those who give their lives for the name of Jesus. Those who suffer for the name of Jesus, but not to the point of death, are called "confessors."

We live in a time for confessing, and a time of martyrdom. Terrorist attacks on innocent civilians occur in the post-Christendom secularized West and this secular culture does not know how to respond to such a clash of civilizations. Christians are called, in such a time, to bear witness that those who die killing innocent victims are not martyrs but murderers. Those who die willingly rather than renounce the name of Jesus are martyrs, not infidels.

Our time is not unique in the history of the Church. From the earliest days, the Church has lifted up those who bore witness to Jesus to the point of death. The Church Father Tertullian famously proclaimed, "The blood of the martyrs is the seed of the Church." Christianity offers a world-view that enables us to lament the suffering of martyrs and confessors, and yet, paradoxically, to celebrate their victory over the enemies of the cross.

As Lutherans, we hold to the paradox of the cross as we seek to construct a theological and historical framework for understanding the events that swirl around us. We look to "Jesus, the pioneer and perfecter of our faith, who for the joy that was set before him endured the cross, despising the shame," (Hebrews 12:2) and to "the white-robed army of martyrs" (The Te Deum), as we consider how our Christian identity is formed in these challenging times.

Grace and peace,

Paul Bieber+, STS, Pastor

NEW ADULT EDUCATION OPPORTUNITY

In northern Iraq, radical Muslims (ISIS) spray-painted the Arabic letter ن, or "N," on the homes and businesses of Christians. The property owners were publicly identified as Christ-followers and given a choice to convert to Islam, leave, or die. Our Adult Education curriculum for this Fall invites us to "meet the hope behind the headlines." The curriculum presents true stories of Christians facing Islamic extremists around the world.

Every Sunday our Intercessions include prayers for the suffering Church. Here is a chance to learn more, as we explore the six themes of sacrifice, courage, joy, perseverance, forgiveness and faithfulness. We will be inspired to grow deeper in our relationship with Christ and witness with boldness and joy to our friends, family and co-workers.

We will begin on Sunday, September 18th at 10:30 am in the Pastor's Study, and continue on non-Confirmation Class Sundays. Please join us!

SEPTEMBER 11: KICKOFF SUNDAY

We begin a new academic year of Sunday School and Confirmation Classes with Kickoff Sunday on September 11. After the Liturgy there will be special refreshments, fun, and an introduction to the Fall curricula. Please join us and bring a friend!

---
Please visit our
Liturgical Ministries page
for schedules of acolytes, deacons, lectors, offertory giftbearers, and coffee hour setup hosts.
What's happening at All Saints? News & Notes is our online newsletter!
---

We Invite You to Join Us!

Sunday Eucharist – 9:00 am
We regard the Church's liturgy as the birthright of the baptized and invite Christians of all ages to worship as they are able. At the end of the liturgy on the first Sunday of the month, we encourage children to join the pastor for a children's sermon.

Sunday School and Adult Forum – 10:30 am

Confirmation Classes – 11:15 am every other Sunday

Wednesday Worship – 7:00 pm
• Evening Prayer (Vespers) during Daylight Savings Time
• Compline (Night Prayer) during Standard Time
• Brief Eucharist when a Feast Day falls during the week


---
All Saints is a congregation of the Evangelical Lutheran Church in America and its Pacifica Synod.

We are also a member congregation of the Community Christian Service Agency.
---
Most recently updated Thursday of Pentecost XIV – 25 August 2016.