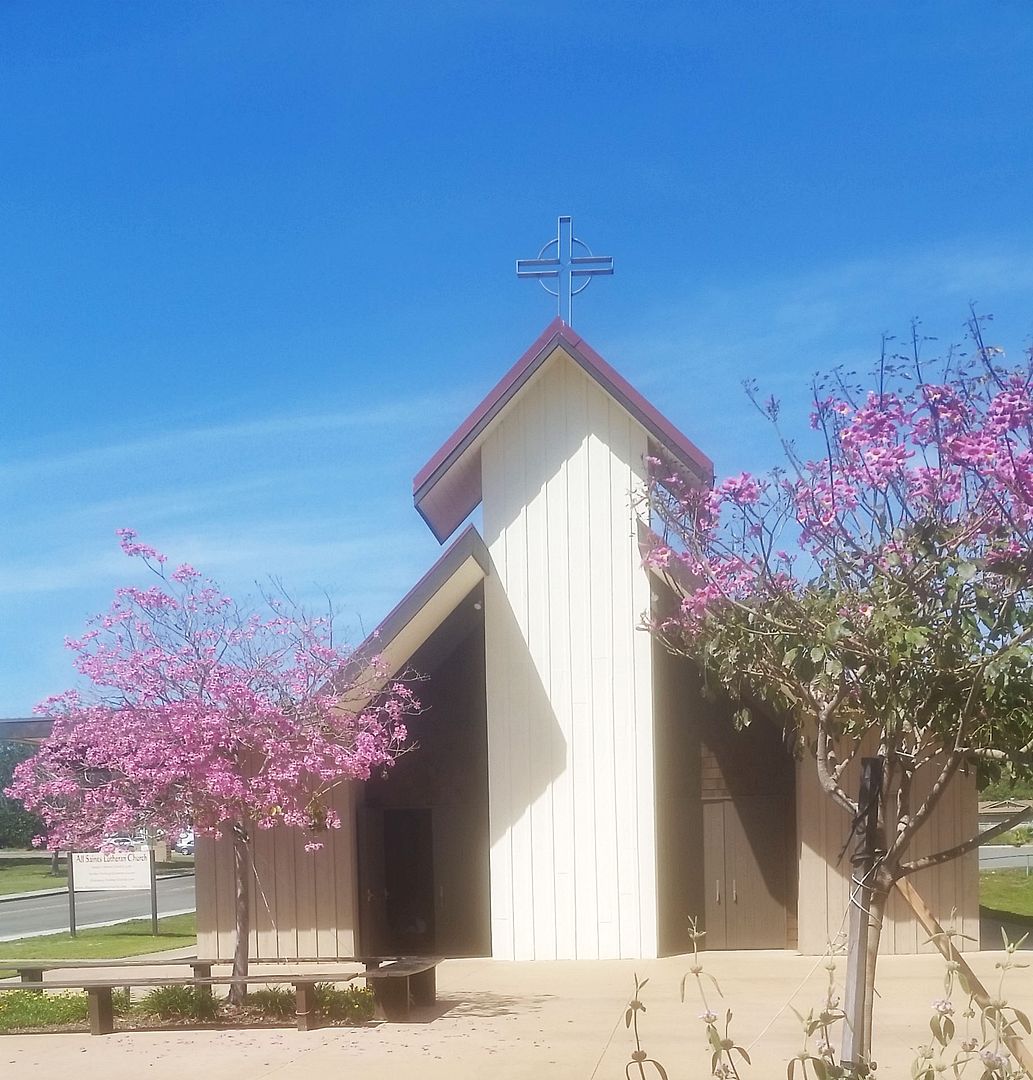 ---
All Saints Lutheran Church, San Diego

6355 Radcliffe Drive, San Diego, California 92122
Church: 858.453.3595 • allstsofc@sbcglobal.net
Preschool: 858.453.5340 • allstspre@sbcglobal.net


NOVEMBER 5
is All Saints' Day

Our Feast of Title: we celebrate the Church in all times and all places
--and gather for our annual All Saints Brunch--

Don't forget to set your clocks back!


November, 2017

FROM THE PASTOR...

Dear Christian Friends,

Therefore, since we are surrounded by so great a cloud of witnesses, let us also lay aside every weight, and sin which clings so closely, and let us run with perseverance the race that is set before us. . . . (Hebrews 12:1 (RSV))

My reflections about All Saints' Day are always drawn back to this verse, even more than to St. John the Divine's depiction of the "great multitude which no man could number, from every nation, from all tribes and peoples and tongues, standing before the throne and before the Lamb, clothed in white robes, with palm branches in their hands. . . ." (Revelation 7:9 (RSV)) For God has triumphed through these who are gathered before his heavenly throne, but we do not yet share that triumph.

We are still in our pilgrimage here below, weighed down by clinging sin yet called to faithful perseverance in keeping and living the faith once delivered to the saints. I am heartened by the thought that we are supported and encouraged by a throng of witnesses who have gone before us. When temptation beckons us to fall into sin, or adversity threatens to overcome us, it can help us to recollect the struggles of the saints who have gone before us on this path through the world to God.

In the language of the Prayer of the Day for All Saints, God has "knit together" his people in one communion of saints, the Church extended throughout all time and space. Death does not break this communion. We remember the departed and give thanks for their lives. And they? It is as though those who have crossed the finish line are cheering us on, who are still running the race, encouraged by God's promise that we shall share with them the victory wreath.

Grace and peace,

Paul Bieber+, STS, Pastor

---
Please visit our
Liturgical Ministries page
for schedules of acolytes, deacons, lectors, offertory giftbearers, and coffee hour setup hosts.
What's happening at All Saints? News & Notes is our online newsletter!
---

We Invite You to Join Us!

Sunday Eucharist – 9:00 am
We regard the Church's liturgy as the birthright of the baptized and invite Christians of all ages
to worship as they are able. At the end of the liturgy on the first Sunday of the month,
we encourage children to join the pastor for a children's sermon.

Sunday School and Adult Forum – 10:30 am

Confirmation Classes – 11:15 am every other Sunday

Wednesday Worship – 7:00 pm
• Evening Prayer (Vespers) during Daylight Savings Time
• Compline (Night Prayer) during Standard Time
• Brief Eucharist when a Feast Day falls during the week


---
All Saints is a congregation of the Evangelical Lutheran Church in America and its Pacifica Synod.

We are also a member congregation of the Community Christian Service Agency.
---
Website most recently updated on All Saints Day – 01 November 2017.